Traumatic Injuries
Traumatic Tooth Injuries
Traumatic dental injuries often occur as a result of an accident or sports injury. The majority of these injuries are minor – chipped teeth. It's less common to dislodge your tooth or have it knocked completely out but these injuries are more severe. Treatment depends on the type, location and severity of each injury. Regardless of the extent of the injury, your tooth requires immediate examination by a dentist or an endodontist. Sometimes, your neighboring teeth suffer an additional, unnoticed injury that can only be detected by a thorough dental exam.
Endodontists are dentists who specialize in treating traumatic dental injuries. With our advanced skills, techniques and technologies we can often save injured teeth. If you have a cracked or injured tooth, please call us right away.  We offer tremendous flexibility in accommodating emergency cases, including weekends in some instances. You'll have relief from your pain and likely save your tooth, so act as quickly as possible.
Listed below are some of the different types of traumatic dental injuries, each of which requires certain management protocols:
Crown Fractures ("Broken Tooth")
If a piece of your tooth breaks off, your dentist will need to cosmetically restore the crown of the tooth.  If a larger segment of tooth breaks the pulp may be exposed and will require endodontic treatment.  For the adult tooth this would consist of root canal treatment.  In a developing tooth there may be other endodontic treatments that can potentially protect the pulp.
Displaced Teeth (Luxation Injury)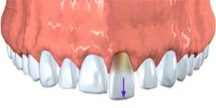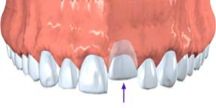 Traumatic injuries to the mouth can cause teeth to be moved out of their normal positions.  The tooth may look like it is pushed to the side (lateral luxation injury), into the socket (intrusion injury), or partially out of the socket (extrusion injury).  It is important to see your general dentist or an endodontist immediately following the injury so the tooth can be repositioned and stabilized with a splint.
Root canal treatment is often necessary following these displacement injuries.  We recommend an endodontic evaluation one to two weeks after splint placement to determine the status of the pulp and initiate root canal treatment if necessary.
Avulsed ("Knocked Out") Teeth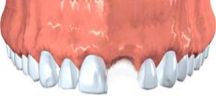 If an injury causes a tooth to be completely knocked out of your mouth, it is important that you seek dental treatment immediately.  It is also essential that you protect the tooth from drying out.  If possible, gently rinse the root of the tooth with saline, milk or water and put it back into the socket.  If you cannot replant the tooth in its socket, you can store the tooth in milk or saline.  See your dentist or an endodontist for tooth stabilization with a splint as soon as possible.  Ideally your tooth should be replanted back into your mouth within an hour of injury.
Root canal treatment is necessary following an avulsion injury to an adult tooth.  In a developing, immature tooth root canal treatment may be avoided.  We recommend an endodontic evaluation one to two weeks after the injury (following splinting) to determine the status of the pulp and initiate root canal treatment if necessary.